Evening of Fine Food
January 28, 2014 @ 6:30 pm

-

9:30 pm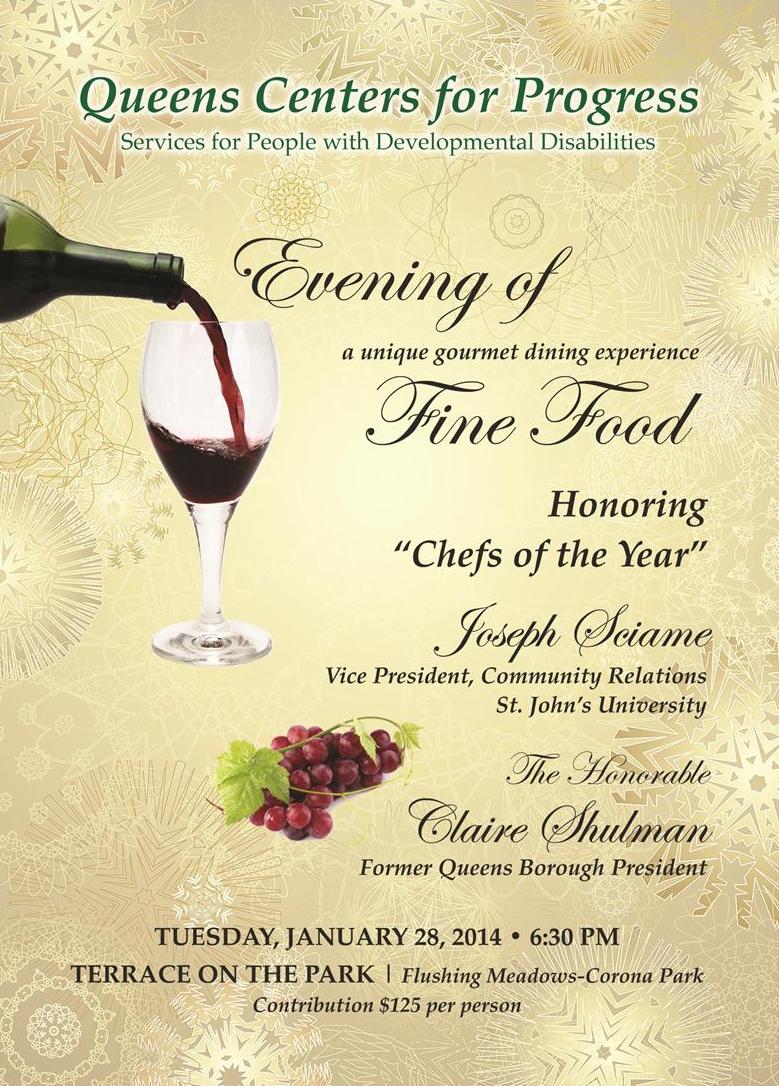 Acme Smoked Fish Corp.
Acquista Trattoria
Anthony's Restaurant
Art O Polis Bakery
Austin Steak & Ale House
Bourbon Street
Brooklyn Brewery
Buddy's Kosher Deli Restaurant
Caffé Sacco
Caribbean Food Delights
Cascon Baking Co.
Cathay Bank
Dan Leone/ Queens Public Televeision
Dazies Restaurant
Deluge Restaurant
Dog n Duck
Dunkin Donuts
Edible Arrangements of Glen Oaks
Frank Macchio
Franny Lew Liquors
Kaieteur
Linda DeSabato/ Vallo Transportation
London Lennies
Luigi's Restaurant & Bar
Marbella Restaurant
Nutty and Sweet
O Lavrador Restaurant
Papazzio Restaurant & Bar
Saffron Restaurant and Tapas
Tandoor
Tavern 18
TD Bank & Crew
Tequila Sunrise
Trattoria Neo
Wine by Tricana Imports 
An Evening of Fine Food provides a fun setting for many people from the Queens business community to network and socialize as they sample the gourmet fare provided by top restaurants and chefs.
Each year, individuals whose dedication to making a difference in the community is exemplary, are honored as our  "Chefs of the Year."  This year's Chefs are Joseph Sciame, Vice President of Community Relations at St. John's University and former Queens Borough President, The Honorable Claire Shulman.
Please join us for a fun filled and delectable evening.